The city of Torremolinos is one of the biggest tourist resorts on the Costa del Sol in the south of Spain. Originally Torremolinos was a simple fishing village with 4000 inhabitants. In the 50's the first tourists came to Torremolinos. Today the city has about 70.000 inhabitants and belongs to the very big tourist places in Europe. In the meantime, the place has grown together with two further mega-tourist places, Benalmadena and Fuengirola. Together it is one of the largest tourist regions in the world.
Very popular with tourists in Malaga: boat tour in the evening – catamaran trip at sunset, inexpensive: >>> More information and booking
Picture: Alex Tihonov – Fotolia.com
Torremolinos is located directly south of the city of Malaga. Between the two cities is the airport of Malaga. Torremolinos is connected with Malaga, with the airport and with the big tourist cities further south by a modern S-Bahn every 20 minutes. The majority of holidaymakers in Torremolinos come from Great Britain and the Netherlands. Germans also come here, but they are clearly in the minority.
Our tip: Tour to the world famous hiking trail Caminito del Rey (Path of the Kings) with hiking and lunch. Very popular full day bus tour with best reviews:  >>>  More information and booking 
Overview Torremolinos
Although the city centre is only a few hundred metres from the sea, it is about 50 to 60 metres above sea level. Below the beach there is a beautiful pedestrian promenade with many shops and restaurants. The wide, long beach looks very neat and clean. In summer tens of thousands of tourists sunbathe here every day.
Gibraltar tour from Torremolinos (bus tour, day trip):   >>> More info and booking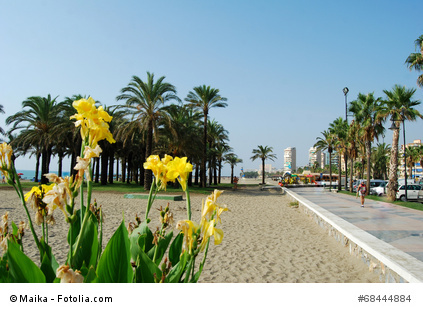 The many big hotels of Torremolinos seem a little boring for the most part. Most of them are big concrete blocks without any character. Perhaps the most beautiful area of Torremolinos is the old quarter Carihuela just a few meters behind the beach promenade. But also these old alleys have been completely conquered by tourism. In almost every house there is a guesthouse, a souvenir shop or a restaurant. Nevertheless, the area has much more flair than the rest of the city. In the last years, the city administration has tried to make Torremolinos more attractive. Some parks and the Botanical Garden (only 1 Euro entrance fee) have been created. Along the sea, many palm trees were planted that give shade to the holidaymakers during the many hot days at the Costa del Sol.
Current tip 2023:

Online tickets Picasso Museum Malaga

You can also buy tickets for the famous Picasso Museum online on this  great website. The Internet ticket also includes a visit to the ancient cellar of the archaeologically very interesting Palacio de Buenavista and an audio device in German for the museum. An entrance ticket costs only 12 euros online.
Downtown Torremolinos
In the city center is the station of the local train and a larger pedestrian zone. There are also many restaurants and pubs. A German meeting point in the evening is the pub "Claudia´s" almost directly at the main square Plaza de la Nogalera, on which also the underground station is. Also international chains like Burger King, Irish Pubs and similar are in direct proximity. You can feel here that Torremolinos are becoming more and more a holiday resort for tourists with rather low purchasing power. Big signs with special offers dominate the picture. In some pubs, a small beer is already available for one euro (as of the beginning of 2015). Otherwise there are in Torremolinos many night clubs, discotheques and some brothels. The city has one of the biggest gay and lesbian scenes in liberal Spain.
Benalmadena Sea Life: Great, large and very well known aquarium just a few kilometers away. Buy tickets online in advance, large crowds:  Link booking and more information
Along the beach of Torremolinos
If you go down one of the steep roads from the centre to the Mediterranean, you reach the beach after less than one kilometre. Here, along the promenade, there are several hundred restaurants. They are mostly Spanish restaurants with quite good cuisine and reasonable prices. There are also many fast food restaurants. Not a few foreigners from England, Holland and Germany try their luck here as independent restaurateurs. However, the curry sausages in Germany tasted better than in Torremolinos. The prices are favourable due to the strong competition, this is especially true if you order the special offers which are written in capital letters. Such a bargain can be a paella for 4 Euro or a small beer for 1 Euro. The promenade goes as far as Benalmadena. Only because of the place name sign on the pedestrian zones one notices that one has reached the other place. Otherwise, Torremolinos and Benalmadena are completely assembled.
Tour Ronta and Setenil de las Bodega from Costa del Sol (bus tour, full day):  
>>>
More information and booking
Local Train Torremolinos
The train line runs at the top of the city centre. Thus, those who arrive by train and want to get to the beach have to walk down the mountain for approximately 15 minutes. The modern trains run every 20 minutes to Malaga, to the airport and in the other direction to Benalmadena and Fuengirola. In Malaga and Fuengirola the train stations are very central, in Benalmadena the station is far away from the sea.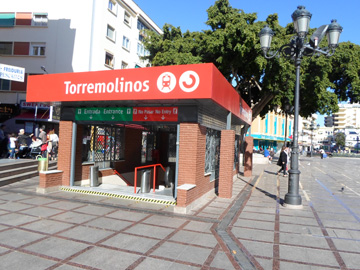 The fares are very reasonable, a single trip from Torremolinos costs a maximum of 2.05 euros (as of early 2015). Even cheaper are tens of tickets, then you only pay about 1.35 euros per trip. You can also use the tens cards for several people at the same time. The S-Bahn in Spain is called Cercanias. Accordingly, the abbreviation on the information signs is not "S" as it is here, but "C". One buys tickets before the trip at the vending machine, which is relatively simple. The vending machines can be operated in English, but not in German. At the station Torremolinos there is, in contrast to almost all other S-Bahn stations of the S-Bahn Malaga, a ticket counter that is mostly occupied.
Excursion to Gibraltar
Many holidaymakers in Torremolinos go on one or more day trips during their holidays. A very popular destination is Gibraltar, about 100 kilometres away. Unfortunately it is not easy to get from Torremolinos to Gibraltar without a car (distance about 100 km). There is no railway along the coast, the few buses are mostly with change. However, there are excursion buses that offer day trips at a reasonable price. We recommend to book such a tour in peace at home in the Internet on a German web page.  >>> Here you can find more information and the possibility to book such an excursion to Gibraltar.
Buses Torremolinos
The bus station is located at the top of the center not far from the central Plaza del Sol. Buses depart from Torremolinos several times per hour to Malaga and Benalmadena (line 110). Every half hour during the day there is a bus to Benalmadena-Pueblo. Pueblo is the Spanish word for village. It means the old centre of Benalmadena far above the sea. There are also two buses per hour to Fuengirola with many stops along the coast.
Gibraltar tour from Torremolinos (bus tour, day trip):   >>> More info and booking
About 1 to 2 times per hour a bus goes more or less directly to Marbella (travel time a good hour). All buses mentioned so far cost less than two Euros, only the bus to Marbella costs about 5 Euros (prices beginning 2015). Occasionally there are also long-distance buses from Torremolinos to the big cities of southern Spain such as Seville, Cordoba or Granada. Alternatively, you can take the S-Bahn to Malaga and change to trains or buses at the main station (name: Maria Zambrano). Malaga central bus station is right next to the hypermodern new train station. The buses from Torremolinos to Malaga do not stop at the big bus station, but at a smaller station by the sea, not far from the city centre (name: Muelle Heredia).
Tickets Burj Khalifa: The highest house in the world in Dubai
Overnight Torremolinos
With so many hotels and apartment complexes as in Torremolinos, it's not easy to recommend anything. Our favourite is the Nina de Oro below, 50 metres from the beach in Carihuela. The apartments with one bedroom and living room cost in winter 30 euros, to summer up to 80 euros (depending on the season). The very nice and helpful owner only speaks Spanish. The furnishing of the kitchen, the WLAN and many other things were excellent in the Nina de Oro during our visit. In the immediate vicinity there are many restaurants, pubs, supermarkets and much more. Many more accommodations in "Torre" can be booked at Booking.com on the internet (also holiday flats etc.):
Our tips:

Prepare good websites for holidays in Spain for the 2023 season
Are you looking for

cheap hotels in Spain

 

>>>

Click heree

Best Website for

Bus Excursions, Tickets ,,,

:

>>>

Click Here
Cheap rental cars in Spain

:  >>>

  

Click here
Torremolino's top 10
Torremolinos is a popular tourist destination on the Costa del Sol in southern Spain. Known for its beaches, lively nightlife and rich cultural heritage. Here are the top 10 things to do in Torremolinos.
Very popular with tourists in Malaga:

 boat tour in the evening – catamaran trip at sunset, inexpensive: >>> More information and booking
La Carihuela Beach :
This is one of the most popular beaches in Torremolinos. It's a long sandy beach with crystal clear water and plenty of bars and restaurants.
Street San Miguel :
This is a pedestrian street in the center of Torremolinos with shops, cafes and restaurants. It is an ideal place for walking, shopping and people watching.
Bajondillo Beach :
This is another popular beach in Torremolinos, known for its crystal clear waters and soft sand. An ideal place for swimming, sunbathing and water sports.
Aqualand Torremolinos :
This is a water park with a variety of slides and attractions for all ages. An ideal place to cool off on a hot day and have fun with family and friends.
Gibraltar tour from Torremolinos (bus tour, day trip):  >>> More info and booking
House of the Navajas :
This is a beautiful 19th-century mansion that has been converted into a cultural center. It is known for its complex architecture and beautiful gardens.
Molino de Inca Botanical Garden:
An oasis of calm in the heart of Torremolinos. A beautiful botanical garden with a variety of exotic plants and trees.
Park with crocodiles:
A unique attraction featuring over 300 alligators from around the world. Visitors can see the alligators up close and even hold a baby alligator.
Costa del Sol Square :
This is a lively square in the center of Torremolinos surrounded by cafes and restaurants. A great place to sit, people watch and have a drink or meal.
Los Alamos Beach :
This beach is appreciated for its clear water and fine sand. An ideal place for swimming, sunbathing and water sports.
Synagogue of Torremolinos :
This is a small synagogue in the center of Torremolinos. Open to visitors is a historic building from the 1920s.
Crocodile Park Torremolinos
The Crocodile Park in Torremolinos, Spain is a unique and fascinating attraction for visitors of all ages. Here you can find out what you should consider when visiting the park.
Over the park :
Crocodile Park is home to over 300 alligators from around the world, including Nile, American and saltwater crocodiles. The park's primary goal is to educate visitors about alligators and their habitat, and to support conservation efforts.
What you can expect:
Visitors to Crocodile Park can see crocodiles up close in their natural habitat. The park features a variety of exhibits, including "Crocodile Island," a large pond inhabited by dozens of alligators. Visitors can also see alligators at the park's breeding center and nursery.
Leader:
Crocodile Park offers guided tours to help visitors learn more about crocodiles and their habitat. Tours are offered in multiple languages, including English, Spanish, and French. The park also offers educational programs for schools and other organizations.
Further activities:
In addition to crocodile watching, there are a number of other activities such as a children's playground, gift shop, and a cafe that offers snacks and drinks. Safety Precautions:
Visitors to Crocodile Park are required to follow safety rules to ensure the safety of visitors and the alligators. These rules include staying behind the security fences and not touching or feeding the alligators.
Overall, Torremolinos Crocodile Park is a unique and educational experience for visitors of all ages.
Very popular with tourists in Malaga: boat tour in the evening – catamaran trip at sunset, inexpensive: >>> More information and booking
Aqualand Torremolinos
Aqualand Torremolinos is a popular water park in Torremolinos, a town on the Costa del Sol in southern Spain. With a variety of water slides, wave pools and other attractions, Aqualand Torremolinos is the ideal place for families and anyone looking to cool off on a hot day. Here's what you should know before your visit:
Tourist Attractions:
Aqualand Torremolinos offers a wide range of attractions including water slides, lazy rivers, wave pools and children's areas. Some of the park's most popular slides include Kamikaze, Black Hole, and Rapids. The park also offers a variety of dining options, including restaurants and snack bars. Security:
Safety is a top priority at Aqualand Torremolinos and the park has implemented numerous safety policies to ensure visitors can enjoy the attractions safely. These rules include wearing appropriate swimwear, following lifeguard instructions, and not bringing glass or sharp objects into the park.
Accessibility:
The park is accessible to visitors with disabilities and offers accessible parking, restrooms, and attractions. Visitors with disabilities should contact the park in advance to discuss the need for special accommodation.
Tips for visiting :
To get the most out of your visit to Aqualand Torremolinos, we recommend that you arrive early in the day as the park can get very busy at peak times. Also, much of the park sits outside in the sun, so it's a good idea to bring sunscreen.