In Spain there are some art museums with absolute world level. Some of the most famous painters in the world come from Spain. Recent examples include Picasso (born in Malaga), Moro (Barcelona) and Dali (Figueres, northern Spain). Many Spaniards are art lovers and frequent museum visitors. Moreover, Spain is not a bad location for museums. Of the millions of tourists who visit the country every year, a high percentage visit at least one of the museums. The entrance fees in the big museums are moderate compared to France or Germany – often less than 10 euros per person. In the following, I would like to briefly introduce four of the museums worth seeing.
Prado Museum (Prado-Museum) in Madrid
The Prado is by far the best known and most visited museum in Spain and is one of the top 10 art museums in the world – many think it is the number 2 in Europe after the Louvre in Paris. In the huge museum building, 3,000 paintings and 10,000 other objects (such as drawings, art objects) are shown. The Prado is famous for works by Rembrandt, Albrecht Dürer and Botticelli.
How to get to the Prado Museum: There is a subway stadium in Madrid with the name Museo del Prado and is not far from the city centre. Better by public transport (Metro) than by car.
—>>>> This link gives you tickets for the Museum Prado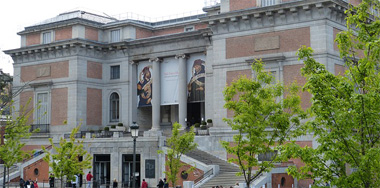 Prado Museum opening hours: The Prado is open daily from 10 a.m. to 8 p.m. and is closed only on three public holidays a year: New Year's Day, 1st May and 1st Christmas Day. It is best to come on a day when there is not so much going on (during the week). Long waiting times are not excluded, especially on weekends and in summer.
Admission prices Prado Museum: Currently (early 2015) 14 €, reduced (senior citizens over 65, schoolchildren, students, etc.) 7 €, children free.
>>>
Here are the online tickets for the Barcelona stadium
Prado in Google Earth: The Prado Museum allowed Google to photograph 14 of the museum's masterpieces and publish them in Google Earth.  The images can be found by navigating to Prado in the Google Earth software. The extremely powerful zoom capability allows you to view small details on the 14 images.
Dali Museum Figueres (Theatre-Museo Dali)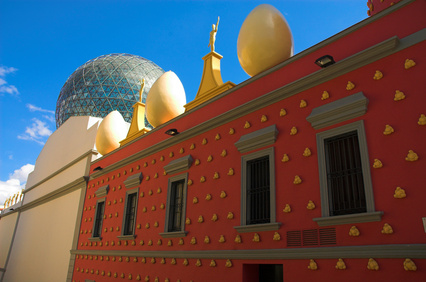 The City of Figueres is located in northern Spain not far from the French border. It is the hometown of Salvador Dali. The building of the Dali Museum is already a brilliant achievement from the outside. Spain is known for its modern architecture. Here you will find a great overview of other world-famous, ultra-modern buildings. Of course, the Dali Museum exhibits mainly works by Dali, who is also said to be buried in a secret place in the museum.
Directions to Dali Museum Figueres: Central in Figueres, well signposted, 10-15 minutes walk from the train station, free parking available.
Opening hours Dali Museum Figueres: In summer daily 9-20 o'clock, in other seasons somewhat shorter and Monday closed. In winter e.g. 10:30 – 18 o'clock. Also this museum is very well visited particularly during vacation times and on weekends – long waiting times are not excluded.
Entrance fees Dali Museum Figueres: Currently (2014) 12 € adults. 9 € for children, students, seniors from 65 years. Children up to 9 years free. Slightly too expensive compared to the other important Spanish museums.
You can buy tickets for the Dali Museum in Figueres on the Internet on this German-language website.
There are also good guided tours of the museum in Spanish and English. Link to book a guided tour of the Dali Museum.

Picasso Museum Malaga (Picasso Malaga Museum)
In the centre of the southern Spanish metropolis of Malaga, the Buenavista Palace houses the famous Picasso Museum, one of Malaga's most important sights. The house where Pablo Picasso was born in 1881 is not far away. The museum is entirely dedicated to Picasso and was opened in 2003. Since then it has been one of the most famous museums in Andalusia.
How to get there Picasso Museum Malaga: The building (Palacio de los Condes de Buenavista) is located very centrally in the city centre of Malaga and is signposted everywhere. It is best to take the train or bus to Malaga and walk to the Picasso Museum.
Our tip: Catamaran trip off the coast of Alicante. Short cruise (duration 2 hours) with drinks etc. for only 29 euros. Great experience, we really liked it: More info and booking
Opening hours Picasso Museum Malaga: Tue, Wed, Thu and Sun: 10-20 o'clock ; Fr,Sa 10-21 o'clock, Monday meanwhile also open.
Entrance fees Malaga Museum: Currently (2015) 7€ (incl. special exhibitions 8€). Reduced (e.g. senior citizens over 65 years) 3,50€, children under 12 years and students with ID for free.
Current tip 2023: Online tickets for the Picasso Museum in MalagaYou can buy tickets for the famous Picasso Museum on the Internet on this German-language website. The Internet ticket also includes a visit to the ancient cellar of the archaeologically very interesting Palacio de Buenavista and an audio device in German for the museum. A ticket costs less than 10 euros online.
Guggenheim Museum Bilbao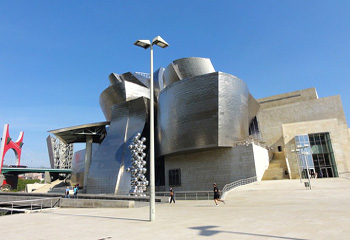 The most famous museum in the Basque Country was opened in 1997. The grandiose new building alone is worth seeing. The number of visitors is about one million per year. It is one of the seven Guggenheim Foundation museums in the world. It exhibits mainly 20th century art such as pop art by American and European artists. There are many temporary exhibitions.
Directions to Guggenheim Museum Bilbao: In the city centre, very well signposted, easy to find.
Opening hours Guggenheim Museum Bilbao: 10-20 hours except Monday. In midsummer (July and August) also open on Mondays, then daily from 9-21 hrs.
Entrance fees Guggenheim Museum Bilbao: adult 13€, reduced (pupils, students, seniors) 7,50€, children free.
Tips:Also in Italy, more precisely in Venice, there is a Guggenheim Museum: More on this page
Likewise Florence is famous for exhibition of art, especially the museum Uffizi in the old town of Firenze.
Our tips:

Prepare good websites for holidays in Spain for the 2023 season
Are you looking for a

cheap hotel in Spain

Booking.com:

>>>

Click here



We always book

rental cars

at Billiger-Mietwagen.de:

>>>

Click here
Best Website for

Bus Excursions, Tickets

Getyourguide:

>>>

Click Here
Travel Guides, Maps, Sunscreen…
>>>
Shop at Amazon
Interlaken




Jungfraujoch




Little Scheidegg




wengen




Lauterbrunnen

Staubbach Falls




Trummelbach Falls




Murren




Grindelwald




Lake Thun




Lake Brienz