Denia is the northern beginning of the Costa Blanca. The city has different sides. On one side, Denia is a nice Spanish small town on the Costa Blanca with a big harbour. Around the city, however, was built in the last years massive: Thousands of single-family houses and apartment blocks for foreigners (especially Germans) have been built. They have a second home in Denia or have moved here as pensioners.  There are also a large number of tourists in summer. The majority of these are also from Germany. From Denia there are ferries to Ibiza and partly also to Mallorca.
Sights Denia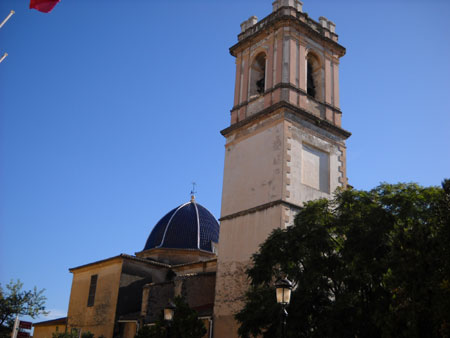 The old town of Denia is worth seeing. Here you don't notice much of the "Urbanizaciones", the settlements of the northern Europeans, around the city. Center of Denia is the nice square Placa de Constitución with the church Iglesia de las Asuncion (picture above). Behind the church, you can go up to the castle of Denia, which can be visited for 3 euros. The castle also houses the Denia Archaeological Museum. Another small but interesting museum is the toy museum.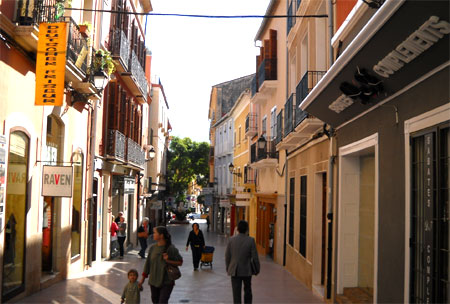 The small pedestrian zone (see picture above) looks rather small-town. No wonder – Denia has only 50,000 inhabitants including the many Germans who rarely come here to the centre. There are some nice pensions in the center of Denia. Recommended are the Hostal Loreto and the Hotel Cristina.
In the city centre there are no beaches because of the big harbour. About 2 km to the north starts a 5 km long beautiful sandy beach. There are also many hotels (cheap and ok is the hotel Oasis). Also south of the city is a long beach, but in the north is the more beautiful Playa.
Our tip: Ride the catamaran off the coast of Alicante. Short cruise (duration 2 hours) with drinks etc. for only 29 euros. Great experience, we liked it very much: >>> More informtion and booking
Arrival Denia

By ferry you can get from Denia to Ibiza every day of the year. However, the fares are high. In November 2009 I ask for a return ticket for 2 persons to Ibiza at the ferry terminal. I was told a price of almost 300 Euro without car and about 400 Euro with car. There are only ferries of the company Balearia. According to the website of the company there are also special offers for about 60 Euro for a trip to Ibiza. In summer there are also ferries from Denia to Mallorca.
The narrow-gauge railway station to Benidorm and Alicante is directly opposite the port. If you want to get to Alicante, you have to change at Benidorm. The fares are very cheap, but the trip to Alicante takes about 2.5 hours. The bus station of Denia is located approximately 500 metres south of the centre. From here, there are very frequent buses to Valencia via Gandia and to other cities in Spain. There is no railway between Denia and Valencia.
Our tips:

Prepare good websites for holidays in Spain for the 2023 season
Are you looking for

cheap hotels in Spain

 

>>>

Click heree

Best Website for

Bus Excursions, Tickets ,,,

:

>>>

Click Here
Cheap rental cars in Spain

:  >>>

  

Click here
Our tip: Ride the catamaran off the coast of Alicante. Short cruise (duration 2 hours) with drinks etc. for only 29 euros. Great experience, we liked it very much: >>> More informtion and booking