Arrival in Spain by plane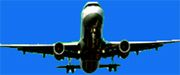 There are more and cheaper flights from Germany to Spain than to any other country. There are scheduled flights as well as charter flights. Charter flights are usually cheaper, but offer less service. For example, often no food on board, sometimes the flights are at unusual times of day.
Flights to Spain are very different in price. The cheapest flights are often to the big holiday regions like the Costa Blanca, Costa Brava or Costa del Sol. Even cheaper it often goes to Mallorca. Bargains can cost in all these regions quite under 100 euros, sometimes there are even special offers under 50 euros. This is however by far not always so. The majority of the passengers pays substantially more. Air fares depend strongly on the occupancy rate. At the beginning of the holidays, flights to Spain are often many times more expensive than in the low season.
Bicycles can usually be taken on the plane. This can cost 20-30 Euro extra, with some airlines even more. Until a few years ago, all airlines allowed luggage of up to 20 kg to be carried free of charge. This is still the case with most airlines, but with some low-cost airlines you have to pay extra for each piece of luggage (partly from the first). Important for the passenger is the final price with all fees and taxes. This should be asked for exactly before buying a flight ticket. In the internet, flights are frequent, but not always cheaper than in travel agencies.
Madame Tussauds Tickets on this link.
Flights to the Canary Islands are usually much more expensive than to the Balearic Islands or the Spanish mainland. This is due to the enormous flight length, which is more of a medium distance than a short distance. A direct flight to the Canary Islands can take over four hours, depending on the departure airport in Germany. On the Canary Islands the winter, like the time around Christmas, is the high season, in the rest of Spain the summer. Holiday trips to the coasts of the Spanish mainland or to Mallorca can be very inexpensive in winter. However, with the exception of the Canary Islands, a winter holiday in Spain does not include beach and bathing in the sea.
Travelling by plane within Spain
Thanks to high-speed trains and new motorways, private individuals on the Spanish mainland do not travel very often by plane. However, flights to Mallorca and Ibiza are more frequent than ferry journeys. There is only one ferry a week to the Canary Islands, and well over 90% fly there. Airfares are very different in Spain. Routes with high competition are usually cheap. The price also depends very much on the season, the day of the week and even the time. Flights to Mallorca are often cheap.