The city of Marbella is the heart of the Costa del Sol. Besides Malaga, Marbella is the only big city on this stretch of coast with 140,000 inhabitants. Even though the area around Torremolinos meanwhile attracts more tourists, Marbella is by far the most famous holiday resort of the Costa del Sol. Above all, richer tourists come here, while the area from Fuengirola to Torremolinos is rather visited by people with normal or low financial possibilities.
>>>   Gibraltar tour from Marbella

(bus tour, day trip):

>>>

More info and booking
The two important areas in Marbella are the small old town and the promenade on the Mediterranean shore. The central square in the old town "Plaza de Naranjas" (Orange Square) is known far beyond Marbella, but actually nothing special. On the green square there are some cafes and restaurants with high prices. Also the tourist information of Marbella is here. The information is good and friendly, one gets a free city map.
Gibraltar tour from Marbella (bus tour, day trip): >>> More info and booking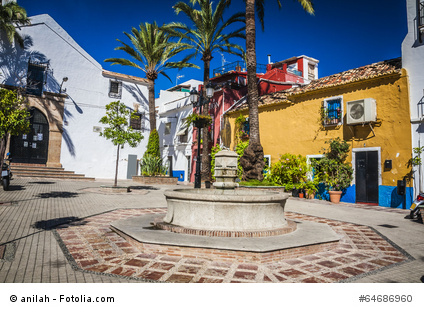 The rest of the not too big old town of Marbella consists of small, picturesque alleys with many shops. Especially clothes, jewellery and souvenirs are offered.
At the long promenade of Marbella there is a lot going on during the day and at night until the early morning. There seem to be an infinite number of restaurants, discos and cafes trying to attract the many tourists. The price level in Marbella is clearly higher than in most other places in Spain. This is not only true for the restaurants, but also for the hotels. Not everywhere, however, the quality in Marbella is higher, the price-performance ratio is the other places on average better. But Marbella is something special.
Between center and sea is a small park with large tropical places. The name of the city park of Marbella is Alameda Park.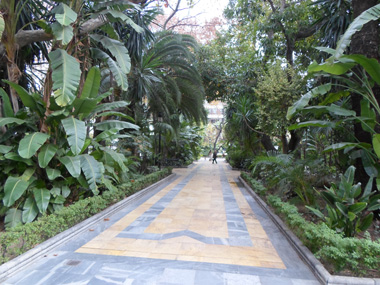 Marbella has one of the largest proportions of foreigners of all cities in Spain with about 30%. On the one hand there are many extremely rich foreigners from Great Britain, Germany and Saudi Arabia living in Marbella.There are also the poor immigrants from Africa and Latin America. Over Marbella are several thousand luxury villas, in which predominantly foreigners live. The city of the rich on the Costa del Sol has a very high millionaire density. The true number of foreigners is probably much higher, since not all who live here also register.

Marbella is the only big city in Spain without a railway connection. The railway from Malaga to Fuengirola is to be extended to Marbella at some point, but at the moment there is no money for it due to the debt crisis of public finances in Spain. The buses remain. The bus station is about 1.5 kilometers north of the old town near the highway. One goes from the "Estacion de Autobus" over the bridge, the street "Camino del Trapiche" leads directly to the old town. If one crosses the old town, one is not far away from the sea. Buses often depart from Marbella to the big places of the Costa del Sol including Malaga. About 8 to 10 times a day there is a direct bus to Malaga airport (45 min drive). Marbella does not have its own airport. A one-way trip to Torremolinos, Malaga or the airport costs about 5 Euro (all destinations are about 50 km away, prices in early 2015). From Marbella you can also take the bus directly to more distant destinations such as Madrid, Granada or Seville. The city bus line 79 connects the bus station with the city centre and Puerto Banus. The 7 km harbour of Puerto Banus is worth a visit, more information here.
Here you can buy tickets for the cathedral Florence on the Internet.
Why is Marbella so popular?
Marbella is known for its fascinating combination of sun, sea, beaches, history, culture, shopping and nightlife. The reasons for its popularity are:
The weather:
Marbella enjoys a mild Mediterranean climate with plenty of sunshine, making it an ideal spot for sun lovers.
Beach:
Marbella has several beaches including the famous Puerto Banus. This beach offers crystal clear water, golden sand and a wide range of water sports.
History and Culture:
Marbella is rich in history and culture, with ancient sites, historic buildings and museums showcasing the city's rich heritage.
Shopping:
Marbella is a true shopper's paradise with designer boutiques, exclusive shops and traditional markets selling everything from local handicrafts to luxury goods. Nightlife:
Marbella's nightlife is legendary, with a variety of bars, clubs and restaurants offering live music, DJ sets and entertainment throughout the night.
Overall, Marbella offers a unique combination of attractions and experiences that make it a popular destination for tourists and locals alike.
Gibraltar tour from Marbella (bus tour, day trip): >>> More info and booking
What is special about Marbella?
Marbella has many unique characteristics that set it apart as a tourist destination. Here are some of the most notable:
Exclusive:
Marbella has a reputation as a luxury holiday destination, popular with celebrities and the wealthy. In the city there are luxury villas, yachts, exclusive shops and restaurants.
Historical charm:
Marbella is a city with a rich history dating back to Roman times. It features well-preserved historical buildings, charming streets and beautiful public squares. Clean sandy beach:
Marbella is famous for some of the best and most beautiful beaches in Spain. The crystal clear waters and golden sand are ideal for sunbathing, swimming and water sports.
Nightlife:
Marbella has a vibrant nightlife with a variety of bars, clubs and restaurants offering everything from live music to DJ sets.
International community:
Home to a diverse and cosmopolitan community, Marbella has evolved into a cosmopolitan city where visitors can experience diverse cultures and traditions.
Is Marbella expensive?
Marbella is known for being a very expensive destination. However, the price may vary depending on the season and the type of activity.
In general, luxury hotels, restaurants and shops in Marbella tend to be more expensive than the rest of Spain. Marbella is also a popular destination for the wealthy, so it's not uncommon to see expensive luxury items.
However, there are also more affordable options like cheap hotels, local restaurants and outdoor activities that don't require a lot of money to spend. Also, keep in mind that prices can be cheaper in the off-season and on travel and accommodation deals.
Marbella is considered an expensive destination, but if you plan and mind your spending, it is possible to visit and enjoy the city without spending a fortune.
Gibraltar tour from Marbella (bus tour, day trip): >>> More info and booking
Which celebrities live in Marbella?
Marbella is known for being a popular destination for both the celebrity and the wealthy and there are many celebrities who live or regularly holiday here. Some of the most famous celebs who live or regularly visit Marbella are:
Es gibt jedoch viele weitere Prominente, die Marbella besuchen oder hier wohnen, da es eine der exklusivsten und beliebtesten Destinationen in Europa ist.
Antonio Banderas, the Spanish actor and filmmaker, was born in Malaga and has a connection to the region.
Julio Iglesias, the famous Spanish singer and songwriter, has a luxurious property in Marbella.
Simon Cowell, the famous British television producer and music executive, has a villa in Marbella.
Eva Longoria, the American actress and producer, owns a restaurant in Marbella.
Vladimir Putin, the President of Russia, is also said to own a villa in Marbella.
However, there are many more celebrities who visit or live in Marbella as it is one of the most exclusive and popular destinations in Europe.
Which airport for Marbella?
Marbella is conveniently located near two airports.
Malaga Airport (AGP):
This is the nearest airport to Marbella, approximately 50 kilometers away. It is the main airport in the Costa del Sol region and is served by many international and domestic airlines.
Gibraltar International Airport (GIB):
The airport is about 75 kilometers from Marbella, in the British Overseas Territory of Gibraltar. Although it is a small airport, it is also served by several international airlines.
Both airports offer a range of transport options to reach Marbella including buses, taxis, private transfers and car hire. Malaga Airport is around 45 minutes drive from Marbella and Gibraltar International Airport around 1 hour and 15 minutes.
Great Gibraltar tour from Marbella (bus tour, day trip): >>> More info and booking