In this article are visitor info for Mundomar water zoo and theme park in Benidorm.
Mundomar is an adventure park in Benidorm on the Costa Blanca in Spain. The theme park focuses on animals that live in the water – especially mammals such as dolphins and seals. Besides there are birds (emphasis parrots) and other exotic animals e.g. penguins or monkeys to see in the park. Adjacent is the water amusement park Aqualandia, which is only open in summer.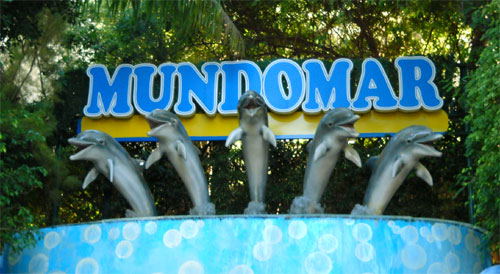 Admission Mundomar
Regular admission prices Mundomar 2023: adults pay 31 €, children 4 to 12 years cost 25 euros admission, as well as the entrance fee for seniors over 65 years is 25 euros. You can also swim with sea lions or have contact with dolphins for an extra fee. (As of early 2023)
Online tickets for Mundomar

are often cheap and you save yourself the long queue at the ticket office:

More information and booking

Reductions on the admission price:

The ticket price in advance reduced by a few euros. To that is still the case, we do not know.

There are of course group discounts, prices for children, as well as discounts for disabled visitors.
Opening hours Mundomar Benidorm 2023
Mundomar is open daily from 10 am to 6 pm. In winter the park is temporarily closed for a few days or weeks.
Our tip: Catamaran trip off the coast of Alicante. Short cruise (duration 2 hours) with drinks etc. for only 29 euros. Great experience, we really liked it: More information and booking
Mundomar Approach
There are several city bus lines to the Mundomar amusement park, which is only a few kilometres outside Benidorm in the direction of Altea. The bus ride (for example line 1 and line 11) costs only 1,25.
If you arrive by train (the Alicante – Benidorm Denia narrow-gauge railway), you can change to a bus at Benidorm Station.
By car, just follow the signs to Mundomar. The theme park is very well signposted. In winter parking was for free, unfortunately I couldn't find out if this is the case in summer.
Online tickets for Mundomar

are often cheap and you save yourself the long queue at the ticket office:

More information and booking

City map Benidorm with amusement park Mundomar

On foot it takes about an hour from the city centre of Benidorm, but only 20 – 30 minutes from the outskirts of Benidorm. Above all, many visitors go back on foot, as it is then downhill. You walk 10 minutes through a villa settlement and then reaches the first skyscrapers, shops and restaurants of Benidorm. However, the way to the city centre takes some time.
Description Mundomar
The main attraction are the three big shows: dolphins, seals and parrots. There are also some other smaller events such as animal feeding.
Dolphin-Show: From my point of view the absolute highlight of Mundomar. The trained marine mammals jump over meter-high ropes, pull boats and push people through the water at high speed. Absolutely worth seeing.
Seal Show: Not much less spectacular is the world class seal show. The trained animals perform various funny tricks. Well done.
Parrot Show: Big, colorful parrots riding bicycles or passing an intelligence test. Also this demonstration is interesting, although not quite as big a spectacle as the dolphins.
On the other hand, I think the other programme items are a bit off. In some animal feeding, a young woman reads information about the animals passionlessly and with difficult to understand pronunciation. Many of the signs in the park are in four languages (including English). Many other interesting descriptions however only in Spanish and English.
Additional costs Mundomar
As already mentioned, parking was free when I visited. The restaurants and takeaways at Mundomar are not overpriced compared to similar parks in Germany. Price examples in December 2017: large water €1.70, small water €1, large coke around €3.50, giant sandwich 4, portion of breaded fish with fries €7.20. There are no other additional costs. If you want, you can buy a photograph of yourself at the exit for €3.50. Of course, there are also the souvenir shops typical of such parks.
 My opinion about Mundomar
It took me about four hours to visit Mundomar. The park is not too big compared to similar parks like Loro Park on Tenerife. The highlights are the three big shows, especially the dolphin show is absolutely worth seeing. The rest of Mundomar is comparable to a smaller zoo. However, the visit is worthwhile because of the three big events from our point of view in any case.
All information from 2019  to 2023 and naturally like everything on Spain-Reiseinfos.de and other web page of me without guarantee.
Mundomar Adventure Park: More information
Mundomar is a fantastic theme park in Benidorm, Spain that offers its visitors a unique experience with a wide variety of aquatic animals, exotic birds and spectacular shows.
One of the highlights of Mundmar is the diverse underwater world. The park has numerous exhibits that showcase the beauty and diversity of marine life, including sea lions, dolphins, penguins and turtles. Visitors can enjoy a variety of interactive animal experiences such as B. Feed sea lions and swim with dolphins.
Mundomar also has an incredible aviary housing a variety of exotic birds from around the world. Visitors can walk through the aviary and admire the beautiful colors and intricate patterns of the birds flying overhead. The aviary houses species such as parrots, macaws and flamingos and features daily bird shows showcasing their incredible intelligence and agility.
In addition to the animal exhibits, Mundomar offers a variety of exciting shows to keep visitors amazed. The park's dolphin show is one of the most popular attractions, where a highly trained team of dolphins perform a variety of stunts and acrobatic feats. The sea lion shows are a crowd puller as the playful animals showcase their innate skills and interact with their trainers in fun and entertaining ways. For those looking for a more immersive experience, Mundomar offers a range of animal encounters where visitors can get up close and personal with their favorite animals. These encounters include swimming with dolphins, feeding sea lions, and even having trainers present during the day.
As far as culinary options go, Mundmar offers a wide range of restaurants and cafes to suit every taste and diet. Visitors can enjoy a wide range of international cuisine, from traditional Spanish tapas to Italian pizza and pasta. The park is also home to numerous stands selling everything from ice cream to popcorn. Overall, Mundomar is a great destination for anyone who wants to experience the beauty and wonders of nature up close. With various animal exhibits, exciting shows and immersive experiences, this incredible theme park has something for everyone.
All information from the year 2019 to 2023 and of course like everything onSpain-Reiseinfos.de and other websites from us without guarantee.
Online tickets for Mundomar

are often cheap and you save yourself the long queue at the ticket office:

More information and booking
Mundomar dolphins
Mundomar is run by a team of highly trained dolphins who perform a variety of tricks and acrobatics every day that amaze visitors. Here's what you need to know about the dolphins at Mundomar.
The Mundmar dolphins are bottlenose dolphins known for their intelligence, agility and social behavior. They are very social animals and live in groups called pods in the wild.
The Mundomar Dolphin Show is an attraction not to be missed. The dolphins perform various acrobatics and tricks and show off their amazing skills. The show includes jumps, somersaults, synchronized swimming, and interactions with instructors who demonstrate the close relationship between humans and dolphins. Visitors can also enjoy a range of interactive dolphin experiences at Mundomar. The park offers a "Swim with the Dolphins" program where visitors can get up close and personal with the animals. This program is a unique and unforgettable experience where visitors can learn more about dolphins and their behavior.
The dolphins at Mundomar are looked after by a team of experienced trainers and veterinarians who look after the health, welfare and care of the animals. The trainers train the dolphins with positive reinforcement techniques. This includes rewarding the animals with fish or other treats when they show certain behaviors or tricks. This creates a positive and trusting relationship between the dolphin and the trainer.
In addition to the performances and interactive experiences, the dolphins at Mundomar also play an important role in marine conservation. The park is committed to the protection and conservation of marine life and works closely with research institutes to better understand and protect these incredible animals and their habitats.
All in all, the dolphins at Mundomar are an incredible sight and a must-see attraction when visiting the park. Whether you're watching a spectacular show or interacting with the dolphins up close, the dolphins will leave a lasting impression on visitors of all ages.
Online tickets for Mundomar

are often cheap and you save yourself the long queue at the ticket office:

More information and booking

More travel guides: Greece Island www.florenz-toskana.de London Zoo opening hours
Our tips:

Prepare good websites for holidays in Spain for the 2023 season
Are you looking for

cheap hotels in Spain

 

>>>

Click heree

Best Website for

Bus Excursions, Tickets ,,,

:

>>>

Click Here
Cheap rental cars in Spain

:  >>>

  

Click here
Some of the information in this article is several years old. Admission prices were updated in 2023.
The two large aquariums in Spain are also interesting: the Valencia Aquarium and the Barcelona Aquarium.