In this article are visitor info for Mundomar water zoo and theme park in Benidorm.
Mundomar is an adventure park in Benidorm on the Costa Blanca in Spain. The theme park focuses on animals that live in the water – especially mammals such as dolphins and seals. Besides there are birds (emphasis parrots) and other exotic animals e.g. penguins or monkeys to see in the park. Adjacent is the water amusement park Aqualandia, which is only open in summer.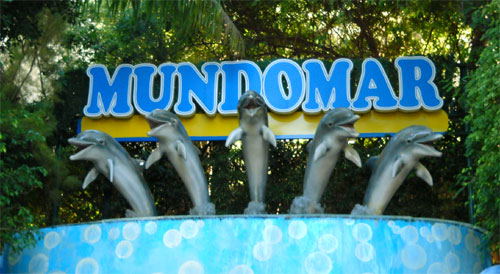 Admission Mundomar
Regular admission prices Mundomar 2023: adults pay 31 €, children 4 to 12 years cost 25 euros admission, as well as the entrance fee for seniors over 65 years is 25 euros. You can also swim with sea lions or have contact with dolphins for an extra fee. (As of early 2022)
Reductions on the admission price:
The ticket price in advance reduced by a few euros. To that is still the case, we do not know.
There are of course group discounts, prices for children, as well as discounts for disabled visitors.
Opening hours Mundomar Benidorm 2023
Mundomar is open daily from 10 am to 6 pm. In winter the park is temporarily closed for a few days or weeks.
Mundomar Approach
There are several city bus lines to the Mundomar amusement park, which is only a few kilometres outside Benidorm in the direction of Altea. The bus ride (for example line 1 and line 11) costs only 1,25.
If you arrive by train (the Alicante – Benidorm Denia narrow-gauge railway), you can change to a bus at Benidorm Station.
By car, just follow the signs to Mundomar. The theme park is very well signposted. In winter parking was for free, unfortunately I couldn't find out if this is the case in summer.
City map Benidorm with amusement park Mundomar
On foot it takes about an hour from the city centre of Benidorm, but only 20 – 30 minutes from the outskirts of Benidorm. Above all, many visitors go back on foot, as it is then downhill. You walk 10 minutes through a villa settlement and then reaches the first skyscrapers, shops and restaurants of Benidorm. However, the way to the city centre takes some time.
Description Mundomar
The main attraction are the three big shows: dolphins, seals and parrots. There are also some other smaller events such as animal feeding.
Dolphin-Show: From my point of view the absolute highlight of Mundomar. The trained marine mammals jump over meter-high ropes, pull boats and push people through the water at high speed. Absolutely worth seeing.
Seal Show: Not much less spectacular is the world class seal show. The trained animals perform various funny tricks. Well done.
Parrot Show: Big, colorful parrots riding bicycles or passing an intelligence test. Also this demonstration is interesting, although not quite as big a spectacle as the dolphins.
On the other hand, I think the other programme items are a bit off. In some animal feeding, a young woman reads information about the animals passionlessly and with difficult to understand pronunciation. Many of the signs in the park are in four languages (including English). Many other interesting descriptions however only in Spanish and English.
Additional costs Mundomar
As already mentioned parking was free during my visit. The restaurants and snack bars in Mundomar are not overpriced compared to similar parks in Germany. Price examples in December 2009: big water 1,50 €, small water 1 €, big cola 2,95 €, giant sandwich 3,50 €, portion of breaded fish with chips 6,20 €. There are no other additional costs. Who wants can buy at the exit a photograph of himself for 3,50 €. Of course there are also the souvenir shops typical for such parks. (All prices from 2009 and 2010)
 My opinion about Mundomar
It took me about four hours to visit Mundomar. The park is not too big compared to similar parks like Loro Park on Tenerife. The highlights are the three big shows, especially the dolphin show is absolutely worth seeing. The rest of Mundomar is comparable to a smaller zoo. However, the visit is worthwhile because of the three big events from our point of view in any case.
All information from 2019  to 2023 and naturally like everything on Spain-Reiseinfos.de and other web page of me without guarantee.