The city with the long name "El Puerto de Santa Maria" is in the southwest of Spain and has about 80,000 inhabitants. It lies on the Atlantic Ocean, opposite the much more famous and larger city of Cadiz. El Puerto de Santa Maria has some sights and long beaches to offer the visitor. Due to the port facilities, Puerto, as many Spaniards simply call it, is strongly influenced by industry in some parts of the city.
Orientation El Puerto de Santa Maria: The town is divided into two parts by the wide river Rio Guadalete. The river flows into the Atlantic Ocean in the city. A bridge and a footbridge over the river are only two kilometers above the mouth. Nearby is also the train station of El Puerto de Santa Maria. The city center is on the western side of the Rio Guadalete, about halfway between the mouth of the river and the railway station.
Our tip: Horse farm Yeguada de la Cartuja near Cadiz: Very interesting tour of the stud with the famous horses from Andalusia Carthusian horses. You can see a show, adult horses and young babies (foals). Hardly any tour is southern Spain has better reviews from participants: >>> More information and booking
The central square of the city is the Plaza de Espana. This is the central church of the city. It was first built in the late Middle Ages (Gothic), strongly destroyed in the 17th century and later rebuilt in the Gothic style. The church is open and there is no entrance fee. The name of the church is "Iglesia Mayor Prioral", it is a so-called Basilica minor.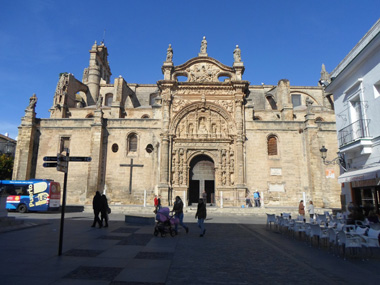 The bullring stadium is called "Plaza de Toros de El Puerto". Although almost every city in Andalusia has a bullring, the one in El Puerto de Santa Maria is the largest bullring in southern Spain. After the arena in Madrid and Valencia, it is the third largest in the country.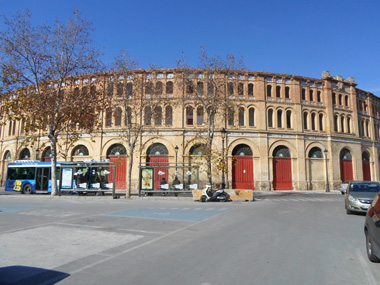 In El Puerto de Santa Maria there are beautiful, wide sandy beaches. A large beach is in the center west of the mouth of the river Rio Guadalete.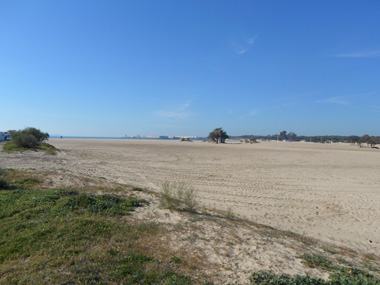 Behind the beach there is a beautiful promenade. The Paseo Martimo de la Puntilla is a popular place for walks. It ends at the mouth of the river, where the locals enjoy a quiet cup of coffee on the terrace of the Pirinaca bar.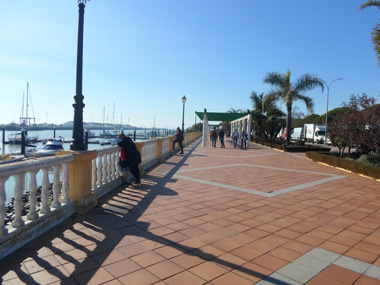 By train: The train station is 40 minutes walk from the mouth of the river and 20 minutes from the centre. A suburban train departs once an hour for Cadiz and the northern city of Jerez de la Frontera a few kilometres further north. There are several trains a day to Seville and Madrid.
Ferry El Puerto de Santa Maria – Cadiz: A fast and very cheap ferry (Catamaran) connects the two cities during the day about once per hour. The sea route to Cadiz is only about 8 km, the land route is many times longer. The fare is less than three Euros.