Arrival by car
Motorway through France: Most people driving from Germany to Spain take the same route. After the border between Germany and France, take the A36 / E54 towards Lyon (via Mulhouse and Besancon). At Dole, change to the A39 towards Lyon, bypass Lyon on various motorway sections and then take the A7 / E15 to Orange. From here take the A9 / E15 via Montpellier and Perpignan to the Spanish border. The whole route in France consists of wide and well-developed motorways.
Tolls in France: Most of the route is subject tolls. The route through France is 868 km long and costs around 65 euros by car. Of course, one can also switch to other roads that do not cost a toll. But then one has to calculate with approximately 10 hours more driving time and with 20 Euro more fuel consumption. So it's hardly worth it. One pays the toll in partial amounts, which are sometimes only 2 euro, sometimes 20 euro. Too long waiting times at the toll payment points hardly occur. Also there are rather few traffic jams on the route (except during the holiday periods).
Staying overnight in France: Those who want to stay overnight on the way should plan this well in advance if one wants a cheap hotel. Simple hotel chains in France are, for example, Formula One Hotels or Hôtel Première Classe, which both offer simple rooms for approximately 35 euros in many hotels next to the motorway (in the summer sometimes a few more euros). Of course, there are also many better hotels at higher prices. Most hotels can be booked in advance at Booking.com.
Recommendation Hotel France: The chain B&B Hotels also has low prices and quite good rooms. We stayed for 34 Euro per room in December 2009 in their hotel in Montelimar and were very satisfied. The hotel is only 300 meters away from the motorway exit and is ideal for an overnight stay in transit.
Travelling by car in Spain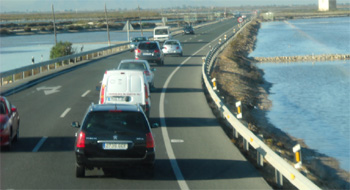 Tip: Here you can find great accommodation in Spain that can be booked online
The Spanish motorways are similar to the French ones: Well developed and modern, but expensive (toll). The toll for cars is even slightly higher than in France – about 8 Euro per 100 km. This corresponds to the bus or train price for one person. In addition there are of course the petrol costs. However, the gasoline diesel in Spain is 20 – 30 cents cheaper than in Germany or France. The motorway network in Spain is not as dense as in Germany or France. However, many motorways are under construction or in the planning stage.
There are few fundamentally different traffic rules than in Germany. The Spaniards drive much more civilized than before, some even stop now at zebra crossings (but you should not rely on it!). The horn is still honked much more than in Germany. One sees police very frequently, it holds itself back however rather. Like France, Spain is a country of roundabouts: almost all major intersections have been converted into roundabouts. This leads to significantly less traffic jams and waiting times than at traffic lights.
In the meantime, the country roads and federal roads in Spain are also very well developed. A four-lane toll-free main road often runs parallel to a motorway, so that if you want to save money, you can also do without the motorways on shorter stretches without any problems.
The signage on motorways is very good. The exits are numbered in a meaningful way. Especially in rural areas without tourism there is sometimes a lack of signposts. Signs such as distance information are often somewhat inaccurate.
Road map or car atlas for Spain
If you are familiar with modern technology, you can use Google Maps or similar maps on your mobile phone or navigation device to find your destinations in Spain. However, many people still prefer a paper map. The Michelin Road Atlas of Spain has very good reviews as a large car atlas. The Freytag Berndt car map, for example, is often bought as a simple folding map of Spain. Both the atlas and the map also contain Portugal.
Our tips:

Prepare good websites for holidays in Spain for the 2023 season
Are you looking for cheap hotels in Spain  >>> Click heree

Best Website for Bus Excursions, Tickets ,,, : >>> Click Here
Cheap rental cars in Spain:  >>>   Click here