The city of Gandia (about 75,000 inhabitants) lies three kilometres west of the Mediterranean Sea (Costa del Azahar), 60 km south of Valencia and 100 km north of Alicante. Gandia has a great old town to offer the visitor. However, tourism is concentrated on the beach suburb of Gandia Platja, a few kilometres outside of Gandia, where there is almost more activity in summer than in Gandia itself.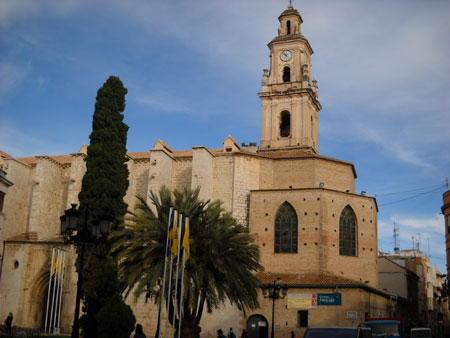 Places of interest Gandia
The town is a nice small town with an extensive pedestrian zone in the centre and some interesting historical buildings. Gandia seems very Spanish and little influenced by nearby coastal tourism. In the past Gandia was much more important than today. The city had a famous university until the 18th century and was the seat of the important Spanish noble family Borja. There is a lot of information about the city and a free city map in the tourist information (Tourist Information) of Gandia directly opposite the railway station in front of the steam engine.
By far the most important sight in Gandia (see picture below) is the Palacio Ducal (Duke's Palace). Especially the splendid rooms inside are worth seeing. Opening hours in winter: Daily 10-13:30 as well as 15-18:30; opening hours in summer 10-13:30 as well as 16-19:30 (Sundays all year round only open in the morning).  The entrance fee for the Palace of Gandia (2015) is 7 euros per person, reduced admission (children, pensioners, disabled persons, etc.) 5 euros. The Duke's Palace Palacio Ducal is located almost directly in the center, only about 50 meters east of the pedestrian zone Calle Major (main street).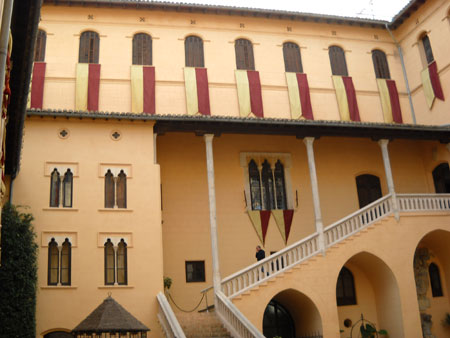 Also worth seeing in Gandia are the town hall (picture below) and the Colegiata, a large church from the 15th century (see picture above).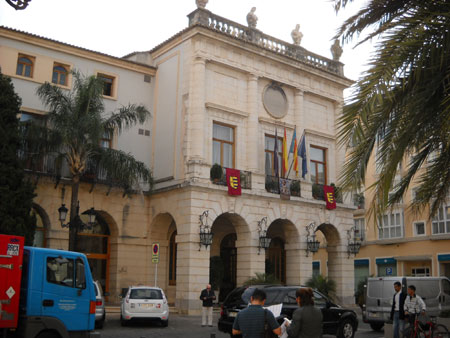 Culinary famous in Spain is Gandia for its local specialty a Paella with noodles instead of rice (Paella Fideua) and this although the largest rice growing area of Spain is only a little north of Gandia!
Save money with the Prague Card in Prague.
Arrival Gandia
Gandia is easy to reach by public transport. In contrast to many other cities in Spain, the train station and bus station are right in the centre of the city and next to each other (even in one building!). There are trains every half hour from Gandia to Valencia (to the main station Estacion del Norte). A ticket costs only 4,40 Euro (end of 2011), travel time for the 70 km about 1 hour. In all other directions there are buses. About 10 buses go daily via Oliva to Denia (3,70 Euro, end 2014), where you can change again to the train direction south. Many of the buses go on to Alicante (bus company Alsa). The buses of the local traffic of Gandia stop outside the station building e.g. very frequently to the beach Gandia Playa.