In general, the day starts a little later in Spain than in Central Europe: most shops do not open before 9 am.
Spaniards love their siesta. Of course, this has an influence on the opening hours – many shops are still closed in the afternoon. As a counterbalance, shops and other facilities open much longer in the evening than in Germany. However, the opening hours in Spain have adapted to the needs of holidaymakers in the holiday regions in recent decades. At the Ballermann or at the Costa Blanca many things are open in the afternoon. Also in the inner cities of the large cities department stores and other larger business do more and more without the afternoon break.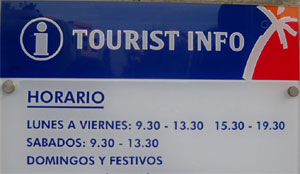 Opening hours of shops in Spain
The classic Spanish shops are open from Monday to Friday at least from 9:30 to 13:30 and from 17 to 20. Many open in the morning already at 9 o'clock (bakeries also earlier) and close only at 14 o'clock. While in northern Spain the shops are open in the evening from 16:30 to 19:30, the business hours in southern Spain are usually from 17:30 to 20:30. Saturdays are often only open in the morning. On Sundays the shops in Spain are traditionally closed.
Gibraltar tour from Costa del Sol and Malaga

(bus tour, day trip):  

>>>

More info and booking

There are more and more exceptions to the above opening hours of shops in Spain:

In the tourist regions, many shops are open much longer. Some shops do not have afternoon rest at all and are open all the time. In many cities, the shops are also open on Sundays. Depending on the city and region, this can be all year round or limited to the summer or the pre-Christmas period. ´

The new shopping centres on the outskirts of the city or the large department stores such as El Corte de Ingles have also abolished the siesta.

Our tip: Catamaran trip off the coast of Alicante. Short cruise (duration 2 hours) with drinks etc. for only 32 euros. Great experience, we really liked it: More info and booking
Opening hours of supermarkets in Spain
The Spanish supermarket landscape is increasingly characterised by discounters. Spanish chains like Mercadona as well as international ones like Aldi, Lidl or the huge Carrefour markets have long opening hours and don't know Siesta. Typically these discounters are open from 9 a.m. to 9 p.m. (6 days a week, Sunday mostly closed). Some of the smaller Spanish grocery stores have followed suit and also abolished the lunch break. In the cities there are very small shops, which are also open on Sundays. These have however only the most necessary (often tasty, fresh bread).
Opening hours of pharmacies in Spain
Pharmacies (Spanish Farmacia) in Spain have similar opening hours to shops (usually from about 9 to 13:30 and 17 to 20 hours Mon-Fri and Saturday about 9 – 13:30). However, these opening hours are not mandatory. Some pharmacies in Spain, especially in inner cities, have significantly longer opening hours (up to 7 days a week 24 hours a day). Apart from that, there are alternating night emergency services similar to those in Germany. Which pharmacy is open in a certain night or at the weekend can be found in the local daily newspapers.
Our tips:

Prepare good websites for holidays in Spain for the 2023 season
Are you looking for cheap hotels in Spain  >>> Click heree

Best Website for Bus Excursions, Tickets ,,, : >>> Click Here
Cheap rental cars in Spain:  >>>   Click here
Opening hours of banks in Spain
Banks in Spain usually have very short opening hours. The typical Spanish bank opens its doors at 8:30 and closes around 14:00. The waiting times are often long. On weekends, of course, all banks are closed.
Tip: Here you can find great accommodation in Spain that can be booked online
Opening hours of museums in Spain
If one wants to visit a museum in Spain, one should assume, as in many countries, that one stands in front of closed doors on Monday. Almost all museums are open in the mornings (except Mo) from 9 a.m. to 1:30 p.m., many are open again in the evenings from 5 p.m. to 8 p.m.. Some museums only open in the mornings on Sundays.
Opening hours of the Tourist Information Office in Spain
The Tourist Information (International designation "Tourist Information" or short "Tourist Info") in Spain has pleasingly long opening hours, which are, however, regionally different. Many of the offices are open 7 days a week from 9 in the morning until the early evening. Almost all of them have free city maps and are very helpful. Even in winter, even in regions without much winter tourism, the tourist information is usually open in the cities. The Tourist Information also arranges hotels, but in our opinion it is better to book accommodation in peace on the Internet at Booking.com.
Opening hours of the Post Office in Spain

The post office (Spanish Correos) is usually open during the week from 9 to 14 and 16 to 19. On Saturdays, the opening hours are usually from 9 am to 1 pm. The Post Shops are closed on Sundays and public holidays. Those who want to buy stamps don't have to queue up in the post office for Spain. "Sellos" are also available in many shops (luck is usually in the tobacco shops).
Opening Hours Churches in Spain
Churches in Spain are almost always closed at night. Often the churches can be visited from 9 a.m. to 2 p.m. – many additionally from about 5 p.m. to 8 p.m..
Opening Hours Restaurants in Spain
The Spaniards eat later than the Germans. Typically, restaurants serve lunch from 1 pm to 4 pm and dinner from 8 pm to around midnight (or a little longer). Breakfast is almost never served in the restaurants, you go to a bar. Even fast food restaurants like Mcdonalds or Burger King don't usually offer breakfast in Spain and only open at noon.
Opening hours Bars in Spain
At almost any time of the day and on any day of the week there is an open bar in Spain. In almost all of them, smoking is still allowed. Many offer a Spanish breakfast, which consists of a small, but strong coffee and a piece of pastry or a toast. Spain, especially the south, is known for its long nightlife. Hardly any bar closes before 3 o'clock, many only at 5 or 6 o'clock in the morning. Many bars serve small dishes (tapas), not a few have even specialized in it and are an alternative to the restaurants.
Opening hours discotheques in Spain
Most discos in Spain open between 10 pm and midnight and close early in the morning.