Underground (Metro) in Spain
Spain is the country in Europe that has seen the most investment in new infrastructure over the last 20 to 30 years. This is also and especially true for the metro network in the metropolises.
The underground (metro) of
Madrid
The metro of Madrid (Metro Madrid) in huge and modern. In total there are 13 lines. As a tourist, one gets to all sightseeings and long-distance train stations.
With 12 lines and over 300 stations, it is one of the largest metro networks in Europe. The Madrid metro system is operated by the Madrid Metro Company (Compañía de Metro de Madrid).
The history of the Madrid Metro dates back to 1919 when the first line opened. Since then, the system has evolved significantly and has become an important mode of transport for both residents of Madrid and visitors to the city. Some of the main features of the Madrid metro system are :
Lines:
As already mentioned, 12 lines cover the city and its surroundings. Rows are numbered 1 through 12 and each row is identified by a different color.
Number of stations:
There are over 300 stations on 12 lines, many serving multiple lines. The train station is well connected to other means of transport such as bus and train stations.
Accessibility :
The Madrid metro system is designed to be accessible for people with reduced mobility. Elevators, ramps and other accessible facilities are available at many stations.
Frequency:
Trains run regularly day and night, every 2 to 5 minutes during peak times and every 5 to 15 minutes during off-peak times.
Tickets:
The Madrid metro system uses a ticket-based pricing system. Different types of tickets are available depending on how long you stay in Madrid and how often you use the metro. Tickets can be bought from ticket machines and from ticket machines in the stations.
Overall, the Madrid Metro is an efficient and convenient way to get around the city and is a major mode of transport for tourists and locals alike.
The Metro

Barcelona
The Metro Barcelona is the second largest in Spain. The Net consists of 5 long lines. Also here, one can go everywhere with the Metro as a holidaymaker.
The Metro Barcelona is the public transport system of the city of Barcelona in Spain. As an important part of the transport network, it offers a quick and convenient way to get around the city. Since the Barcelona Metro opened in 1924, it has undergone major changes to meet the needs of the city's growing population.
The Barcelona Metro has a total of 12 lines and over 180 stations. Lines are color coded and numbered to ensure full coverage of the city and its suburbs. There are also connections to other public transport such as buses and trains, giving passengers a seamless travel experience.
Barcelona Metro is known for its artistic and architectural features. Many stations are adorned with artwork and sculpture, and some have unique architectural features that make them popular tourist attractions. The stations are regularly maintained, clean and safe.
Overall, the Barcelona Metro is a fast, convenient and affordable way to get around Barcelona. It is an important part of the city's transport network and an essential stop for visitors wishing to explore the city.
The metro of Valencia is only about 20 years old, but meanwhile it already has 5 lines and it is diligently built on.
In Sevilla there is so far a subway line, 3 more are in planning. Even in Palma de Mallorca there is a subway line since some years. The Metro of Bilbao currently has 2 lines. In Malaga the subway was opened in 2014. The first two lines are in operation, another two will follow soon.
Gibraltar tour from Costa del Sol and Malaga (bus tour, day trip): >>> More info and booking
Tram in Spain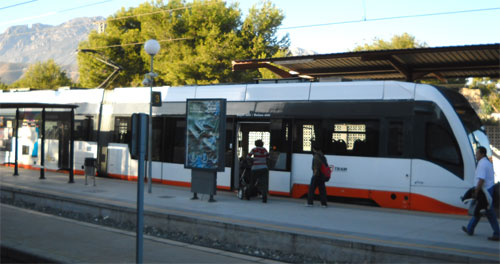 The tram is a rather rare means of transport in Spain (often referred to as tram). As in Germany, many lines were closed down about 20 to 30 years ago and replaced by buses. However, new tram lines are now being built in some cities (for example in Alicante). In the city of Valencia, the tram is still an important means of public transport. In some regions in Spain (around Barcelona, on the famous island of Mallorca) there are so-called museum trams for tourists.
Buses in Spain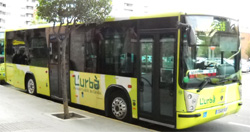 Where there is no subway, there are buses in Spain. Large cities have a large number of bus lines. It is not always easy to get an overview. Also smaller cities and villages are very well supplied in Spain with local traffic. Spain has one of the best public transport systems in Europe.
Fares for public transport in Spain
Tickets can always be bought at the ticket machine or (if not available) from the driver. If you get caught without a ticket, you pay a hefty fine. Checks are frequent. The fares for underground and buses in Spain, however, are pleasantly low. A one-way trip usually costs around 1.80 euros (as of the end of 2018). However there are 10er-Karten (in former times often in tobacco shops, today mostly in automats), with which a simply journey is clearly more inexpensive (usually 30 to 40% less). In many cities and tariff zones you can also buy day tickets, weekly tickets, monthly tickets and/or annual tickets. The 10er-Karten are often the most interesting for the tourist. You just have to be sure that you want to travel so often. It should be remembered that one trip there and one return trip for two people already corresponds to four single trips.
Traffic hours local traffic in Spain
Buses and subways in Spain usually run from 5 a.m. to 7 a.m. until around midnight (caution in smaller towns often ends early). In the really big cities there is a night bus network since some years. On Sundays there are considerably fewer buses, in the countryside (almost) none at all.
Taxis in Spain
Spain often goes by taxi. The fares are slightly lower than in Germany. A 10km ride costs about 15 Euro, a 3km ride about 6 Euro. Luggage usually costs extra. Taximeters must be available and switched on. If this is not the case (now rare) you should complain immediately. Most taxi drivers (but unfortunately not all) are honest. However, there is another common nuisance: Some drive much too fast and disregard all traffic rules. You can't expect a taxi driver in Spain to speak English.
More travel guides: Greece – Venice-Reiseinfo.de – Rome-Reiseinfo.de
Our tips:

Prepare good websites for holidays in Spain for the 2023 season
Are you looking for a

cheap hotel in Spain

Booking.com:

>>>

Click here



We always book

rental cars

at Billiger-Mietwagen.de:

>>>

Click here
Best website for

excursions, tickets

Getyourguide:

>>>

Click here
Guidebooks, maps, sunscreen…
>>>
Shop at Amazon
Marionette Theater Prague
Black Light Theater Prague
Hard Rock Cafe tickets Prague
Medieval food Prague
Mozart dinner Prague