Arrival by bus (long-distance buses Germany – Spain)
If you want to go to Spain but don't want to fly, you can take a cheap bus to Spain. There are long-distance buses from many German cities to Barcelona, Valencia, Madrid and about 30 other cities in Spain.
The organizer of regular bus services in Europe is the company Euroline, in Germany the company Deutsche Touring GmbH. On their homepage www.touring.de there is detailed information on fares and timetables.
For example, a one-way trip from Frankfurt to Barcelona by long-distance bus costs just under 100 euros. In addition to this very reasonable fare, Euroline and Touring even offer discounts (persons under 26, students, senior citizens over 60 e.g. 10%, severely disabled people even about 50%).
As one usually does not have to change with the bus, the travel time is partly even lower than with the considerably more expensive train or with the own car. The modern coaches have seats with relatively much legroom and are comfortable (with WC in the bus, videos etc.).
Our tip: Catamaran trip off the coast of Alicante. Short cruise (duration 2 hours) with drinks etc. for only 29 euros. Great experience, we really liked it: More info and booking
Travelling in Spain by bus (National long-distance buses Spain)
While in Germany there is a pointless monopoly of the Deutsche Bahn for long-distance travel, long-distance bus transport in Spain is free and market-economically organised. There is a multitude of providers competing with each other. This depresses prices and increases services. In Spain, buses are often faster than trains, and sometimes cheaper than trains. On many connections there are only buses, because the Spanish railway network is very wide-meshed. The largest intercity bus company in Spain is called ALSA.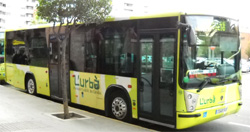 In Spain, long-distance buses depart from the city bus station in any city. Every municipality has such a station, which is not always close to the railway station. In Spanish, the bus station is called "Estacion de Autobuses", internationally "Bus Station". The way there is usually well signposted.
Those who enter a Spanish bus station for the first time usually find it rather chaotic. The main problem is that there are no general timetables, but each bus company has its own timetable at its own counter. Some companies have no timetables at all. First you should look for the general information desk. Here you can get all the information you need by specifying your destination and departure time. Sometimes even a small, individual timetable is printed out, especially if you offer it. About 15 minutes before departure, one should start to look for one's long-distance bus in bigger bus stations in Spain. There are platforms that are clearly numbered. On which platform (Spanish "Andes") the wanted bus departs, one gets to know the timetable, at the respective counter of the company or the general information. English is sometimes understood at the information desk, at the counter of the bus company or even from the bus driver one should not expect this. Even in German holiday regions, German is usually not spoken or understood.
Rent a car in Spain
There are many car rental companies in Spain. Finding a good and inexpensive one on the Internet is not easy. What helps are websites that compare prices and services from many rental car companies. Probably the best-known such website in Germany is Billiger-Mietwagen.de. For years we have only booked our vehicles via this website. Very clear, filterable according to contract conditions such as comprehensive insurance, the best and cheapest offers on the market.
>>>>>
Link to Billiger-Mietwagen.de
The fares of the buses within Spain are rather cheap. A 100km trip costs between 5 and 10 euros, Barcelona to Madrid for example just 25-30 euros. Longer distances are often cheaper per kilometre than shorter ones. Very short distances (within a municipality or to the neighbouring municipality) usually have a very favourable flat rate (around 1.50 euros, as of 2015). Tickets for short distances are often also available from the driver, especially when the company's counter is closed (how often). Sometimes, bus tickets in Spain are cheaper for people under 26, students or pensioners (seniors). International buses run from the same bus stations as national buses.
There are many long-distance buses in Spain. If you have to use a certain bus connection, you should buy the ticket 1-2 days in advance for a longer distance. In more than 90% of the cases, one also gets a ticket shortly before departure. If you get on to a bus stop without advance booking, you can buy the ticket from the driver (only cash, no large bills over 10 euros). On weekends, on many routes (especially in the countryside), there are considerably fewer buses than during the week (on Saturdays, often even more than on Sundays).
All in all, driving a bus in Spain is good and cheap. Of course, on some routes in Spain the railway is cheaper, better or faster. The big advantage for the passenger is that one has the choice between bus and train. It is well known that competition improves performance and lowers prices. Fortunately, the monopoly of the Deutsche Bahn has now fallen in favour of long-distance buses in Germany as well.
Here you will find great accommodation in Spain that can be booked online
More Travel Guides: Greece Gondolas Venice Prices
Our tips:

Prepare good websites for holidays in Spain for the 2023 season
Are you looking for a

cheap hotel in Spain

Booking.com:

>>>

Click here



We always book

rental cars

at Billiger-Mietwagen.de:

>>>

Click here
Best Website for

Bus Excursions, Tickets

Getyourguide:

>>>

Click Here
Guidebooks, maps, sunscreen…

>>>

Shop at Amazon